__________________________________________________________________


Stages Video Productions is proud to be the first production company in the Myrtle Beach area to offer full 1080i/720p HD video in the DVCPRO HD format.

For field production we offer Panasonic's HDX900 camera coupled with Canon's 16XHD lens and Panasonic's BT-LH80W eight-inch HD field monitor.

In studio you'll find the Panasonic HD1400 studio VTR and Panasonic's 42 inch TH-42PH11UK plasma monitor working in-line with Apple's Final Cut Pro HD.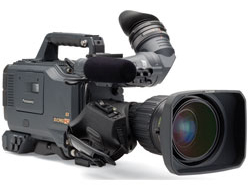 The heart of our HD capabilities centers around Panasonics HDX900.

This full 2/3" DVCPRO HD camcorder records pristine 100Mbps HD images in any of 11 video formats. The versatile, camera provides higher-quality 4:2:2 intra-frame recording that holds up through layers of special effects, graphic overlays and constant editing and processing. Nothing maintains the original image integrity and sound quality like DVCPRO HD. With 1080i, 720p, 24p and 25p capabilities, the AJ-HDX900 is perfect for long-form HD programming, digital cinematography, cable and television production in any format

About Us | High Definition | Production Services | Video Portfolio | National SHAG | Clients | Contact Us | Home

________________________

514 29th Ave. N.
Myrtle Beach, SC 29577
843-626-7466